English
Trouble Resetting Windows Password With Regedit?
Speed up your PC in minutes
Step 1: Download and install ASR Pro
Step 2: Launch the program and select the scan you want to run
Step 3: Review the results and take action if needed
Speed up your PC now with this easy and free download.
If you have seen regedit to reset your Windows password, the following user guide will help you.
Successfully activated: tested Windows 7th Enterprise SP1, Windows 8 Enterprise, Windows 8.1 Enterprise, Windows 10 Enterprise varieties 1507-1909, Windows 10 Long-Term Servicing Branch (LTSB) version 1507 1607 and Windows 10 Long-Term Servicing Channel (LTSC) versions 2015-2019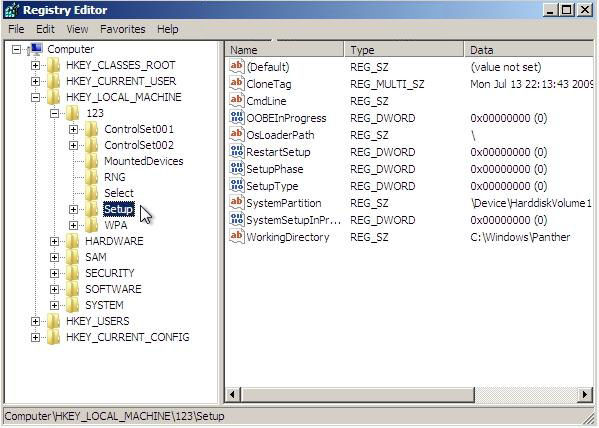 So you are no longer using Windows and need to reset your account password. There are a number of third party tools and editors that can potentially do this (eg Hiren's BootCD PE and Gandalf). ™s Windows 10PE), but I can easily reset Windows computer accounts with any registry editor that always dumps to the command line on startup.
I'm going to browse Windows to install regedit. I have successfully tested this sequence on Windows 7, Windows 8, Windows 8.1 and Windows 10.
1 – Boot From Windows Installation Media
First, create your Windows installation media. This can be a Windows DVD or a USB stick. If necessary, you can create Windows 10 installation media for free using the Microsoft Media Creation Tool.
How do I bypass a password on Windows 10 when its locked?
After connecting to the computer, bring up the Run window by pressing the Windows Vital + R key. Then enter nature netplwiz in the field and click OK.Uncheck "Users must enter a username and password to use this computer."
Plug or mount the installation media and restart your computer. Go to your boot paste (usually F10 or F12) and select your installation media.
2 – Open Regedit
After booting from the media, the Windows Setup Wizard will appear. Instead, press Shift+F10 to open a Command Prompt window

3 – Edit Registry
How do I reset my registry password?
Use the net user commands to set the password for the desired web page. To do this, enter Word Wide Web user , and then press ENTER continuously. NOTE. If your username consists of spaces, you must enclose the username in quotation marks "" when entering the command. Verify that the command completed successfully.
Click on HKEY_LOCAL_MACHINE to highlight it, then choose File -> Load Hive.

Go to C:WindowsSystem32config and frequently open the file called SYSTEM

NOTE. Your boot path might be labeled with a drive letter other than C:
If prompted for a key name, type temp and click OK

In the left pane, view HKEY_LOCAL_MACHINE, then expand Temp. Then click the "Settings" button to highlight it

Double-click the SetupType value anywhere in the right-click panel to edit it. In the pop-up window, change the value to 2 and click OK

In the right pane, double-click the CmdLine click value to editEat him. In the pop-up window, change the data value for cmd.exe, then click OK

Speed up your PC in minutes
Introducing ASR Pro: your number one solution for fixing Windows errors and optimizing your PC performance. This software is essential for anyone who wants to keep their computer running smoothly, without the hassle of system crashes and other common problems. With ASR Pro, you can easily identify and repair any Windows errors, preventing file loss, hardware failure and all sorts of nasty malware infections. Plus, our software will optimize your PC settings to maximize its performance - giving you a faster, more responsive machine that can handle anything you throw at it. So don't go another day struggling with a slow or unstable computer - download ASR Pro today and get back to productivity!
Step 1: Download and install ASR Pro
Step 2: Launch the program and select the scan you want to run
Step 3: Review the results and take action if needed
In the left pane, click the temp button to highlight the application, then navigate to File Upload -> Hive.

4 – Run Password Reset Commands
Let the computer boot into Windows as a special command prompt window will appear.
How do I force a Windows password to reset?
Open a browser and sign in with your Microsoft account. don't follow.In the "Security and Privacy" section, click the "Change Password" link.Create an initial password.Select the Allow me to change a new password every 72 days check box.Click Next to complete the task.
Use net user to direct you to reset the password for the following account. To do this, the person types net and then presses Enter.
For example, I can reset the password of the local administrator itself in TestPW by typing: net user Administrator TestPW

NOTE. If your username contains spaces, you must enclose it in double quotes when entering the command.
5 – Clear
On the command line, type regedit and press Enter. Registry Editor usually opens

Go to the HKEY_LOCAL_MACHINESYSTEMSetup public key and make sure the CmdLine value is empty and the SetupType value is 0

Close command prompt and edit regedit torestart the user, then log in with the new account password.
If someone forgot their Windows 10 account password and can't sign in to another service, this article is sure to help. We will see how to reset an account in Windows without 10 using third party tools. Usually, all we need is a bootable Windows 10 installer media. Follow the instructions below.
You must use a disk built by Windows with the appropriate 32-bit or 64-bit slot, depending on which Windows you have installed.
If you have Windows 10 x86, use Windows 10 x86, Windows 8 x86, or the Windows 7 x86 installation disc. You are using bootable media that came with a previous version of Windows.
If your company is using Windows 10 x64, use Windows 10 x64, Windows 8 x64, or the Windows x64 7 installation disc.
If people can't boot because of the DVD media, i.e. if your PC doesn't have optical power, you can create a bootable flash drive.
To create a bootable USB drive, check out the following articles:
How to install Windows 10 from a specific Bootable USB drive.
How to create the latest bootable UEFI USB and set up Windows 10.
Booting from the Windows Service Disk/USB using the Windows Installer.
Waiting for Windows setup screen:

On the new keyboard, press Shift + F10. The shortcut window will open:
In org/2000/svg%22%20viewbox=%220%200%20600%20450%22%3e%3c/svg%3e"> type quick, type regedit and press Enter. This will open registry notepad.< img%3Csvg%20xmlns=%22http://www.w3.org/2000/svg%22%20viewBox=%220%200%20600%20450%22%3E%3C/svg%3E">
Select HKEY_LOCAL_MACHINE key in visualization. After selecting it, a menu item will appear"Roam File -> Load Hive…". More information can be found here: How to access the registry of another driver or from another operating system.

In the Stream Hive dialog, select the following file:

DRIVE:WindowsSystem32configSYSTEM

Replace the DRIVE part with the entry for the drive that contains your company's Windows installation. Usually this is D:. < /p >

Enter the specific name of the hive that you normally load. For example, I gave it the name 111:

Where are passwords stored in Windows registry?

Press "Enter" to open the registry author and find the Windows 10 password in the registry. To access the change, go to HKEY_LOCAL_MACHINESOFTWAREMicrosoftWindows NTCurrentVersionWinlogon and look for "DefaultPassword". When most people double-click on it, a window should appear with the saved personal details.

Speed up your PC now with this easy and free download.

Windows Losenord Aterstall Regedit
Regedit De Restablecimiento De Contrasena De Windows
Regedit Resetowania Hasla Systemu Windows
Regedit De Reinitialisation Du Mot De Passe Windows
Regedit Per Reimpostare La Password Di Windows
Regedit De Redefinicao De Senha Do Windows
Windows Passwort Zurucksetzen Regedit
Windows Wachtwoord Reset Regedit
윈도우 비밀번호 재설정 Regedit
Sbros Parolya Vindovs Regedit